The Donald Russell x ProCook Easter Bundle
5 Piece
4.9
/
5.0
(

3909

reviews)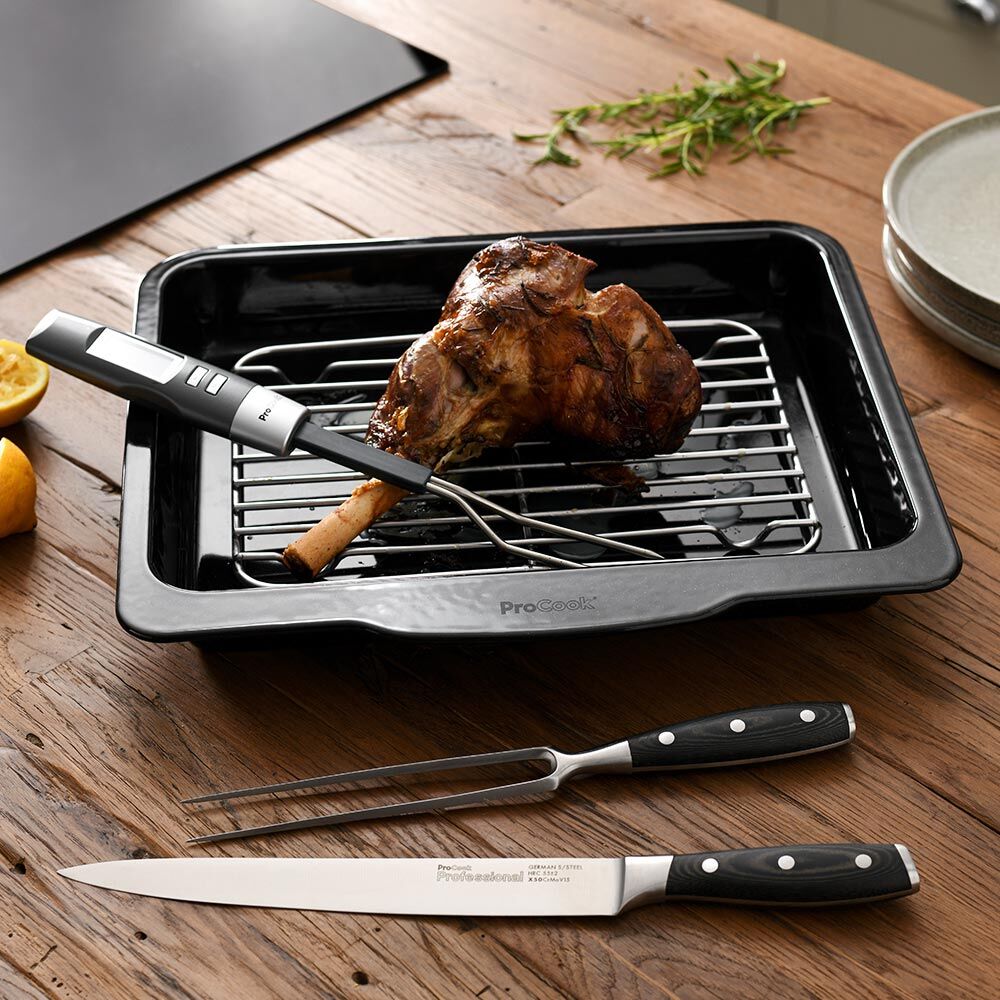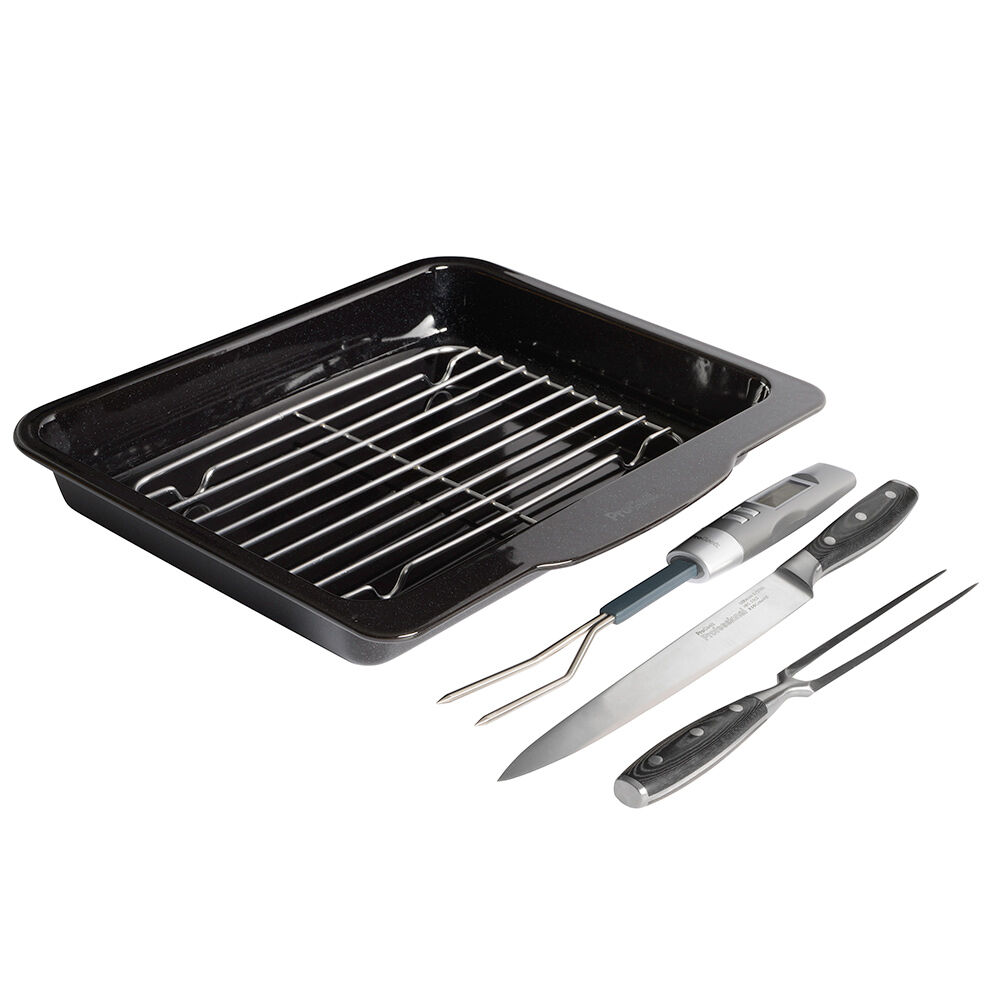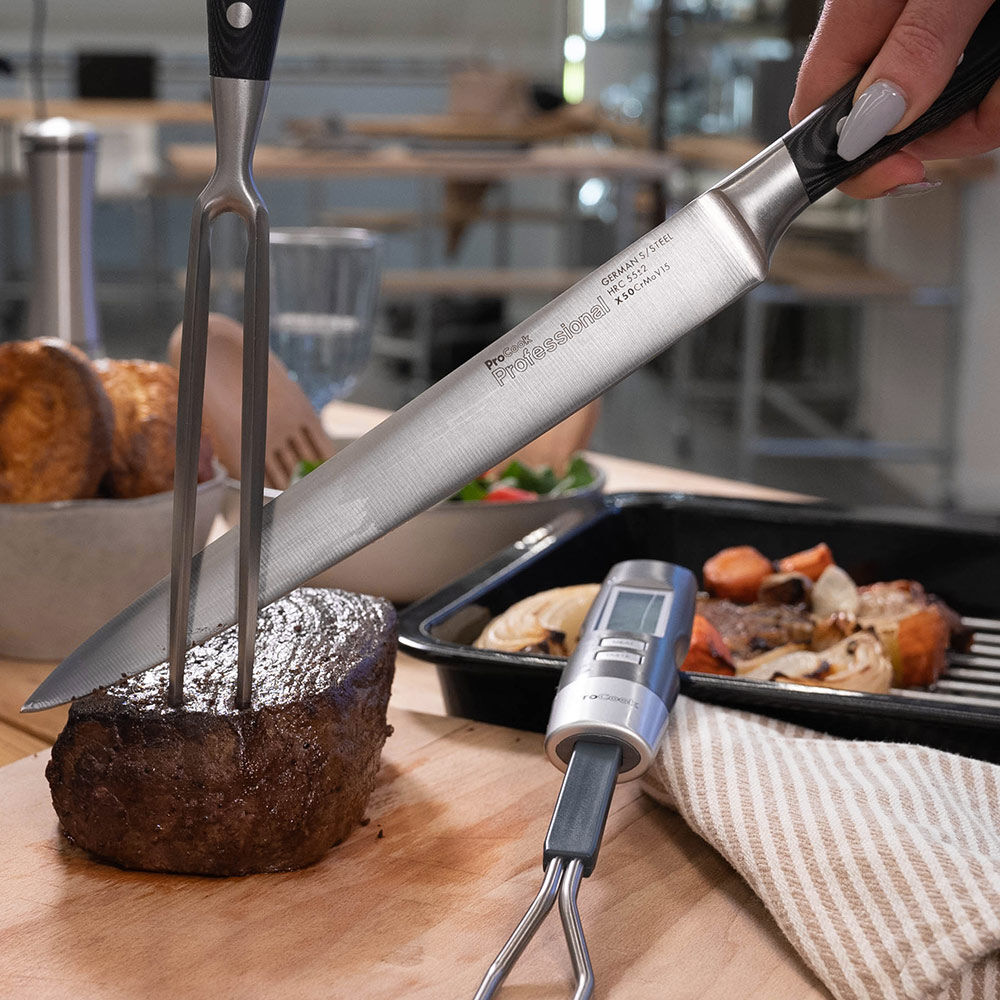 The Donald Russell x ProCook Easter Bundle
5 Piece
4.9
/
5.0
(3909

reviews)
"What an excellent bundle and a fantastic price, bought as presents and if someone had bought me this bundle I would be very pleased"
Next Day Delivery
FREE when you spend £50
90 Day No Quibble Returns
25 year guarantee
Product Description
We've partnered with Donald Russell to bring you our ultimate roasting bundle containing everything you need for the perfect Easter...
An enamel roasting tin featuring exceptional durability that is perfect for the largest of meat joints
A stainless steel flat roasting rack to hold your meat aloft for all-round roasting
Our Professional X50 carving set with carving knife and fork that work in unison to slice even cuts of meat
A digital meat thermometer with LCD display that is programmed for 6 different meats and measures from rare to well done
Typically £149
Only £39.99
Product Reviews
ProCook Product Reviews
Powered by:

Verified purchase
What an excellent bundle and a fantastic price, bought as presents and if someone had bought me this bundle I would be very pleased
---

Verified purchase
Glad I bought this.fantastic value for money
---


Customers who viewed this also viewed
Product Description
The Donald Russell x ProCook Easter Bundle 5 Piece
Exclusive to Donald Russell customers, our ultimate roasting bundle has everything you need to master your roast this Easter, and do so in style.

Carefully curated this roasting set includes:

• Enamel roasting tin - this large 40 x 35.5cm roasting tin is perfect for the largest of meat joints and is made from heavy gauge carbon steel for exceptional durability.

• Flat roasting rack - made from robust and durable stainless steel it will hold meat aloft for perfect, all-round roasting.

• Carving set - includes our Professional X50 carving knife and fork which work in unison to help you slice even cuts of meat.

• Meat thermometer - designed to ensure your meat is cooked to perfection, with a large LCD display and long stainless steel sensor probes. Powered by 2 x AAA batteries (not included).

Pair this fantastic set with the renowned quality of Donald Russell meat for you best Easter yet.
Please note under the Criminal Justice Act 1988 (as amended) we are only allowed to sell knives to persons aged 18 and over.

Details of our age verification process can be found within our Sale of Age Restricted Goods Policy.
Item Code: S3188
Product Specifications:
Range:
Features:
Size:
Weight:
Materials:
Suitability:
Guarantee:
Care Instructions
Guidelines for care: Carving Set


Carbon stainless steel is not completely stain free. The alloy contains a certain amount of carbon steel, which gives our knives their exceptional cutting edge. This means they can be susceptible to slight tarnishing when cutting foods containing acids, such as fruit.
Before using for the first time, wash the knives in warm soapy water.
Use knives on a wooden or nylon chopping board as marble and ceramic boards can, over a period of time, dull the blade.
To maintain sharpness we recommend the use of our sharpening tools found on our website and in our knife leaflets. Before sharpening, wet the knife with oil for greater friction (never when using electric sharpeners).
Always wipe carefully after sharpening as tiny pieces of steel may remain on the blade.
After use, wipe the knife with a warm wet cloth and dry immediately. Carbon contains rusting properties - knives should not be left wet.
We do not recommend washing your knives in the dishwasher as the dishwasher's high temperature and cooling process may cause premature dulling of the blade.
Store knives safely upright in a ProCook knife block. Rest each knife on the back of the blade. This is both hygienic and ensures the blades will not become dulled. Ensure the knife is stored in the correct slot. Too short a slot may result in the tip of the blade curling.
Guidelines for care: Roasting Tray
Wash thoroughly before first use.
Enamel is not non-stick so grease lightly before each use.
Line with grease proof paper if recipe has a high sugar content.
Handle with care and avoid dropping as the tin is not suitable for use if chipped and should be discarded.
Do not use place in an oven that exceeds 260°C / 500°F.
Dry thoroughly before storing.
To remove residual food leave to soak and use a nylon scourer. Do not use metal scourers.
If using over a hob top or naked flame, please do not leave unattended.
Not microwave safe.
Guidelines for care: Thermometer
How to select your desired meat cooking preference
Turn on by pressing the MEAT button.
Turn off by pressing the MEAT button for 2 seconds.
To select your meat type press the MEAT button and a different meat will be selected with each press in the following sequence: BEEF–VEAL–LAMB–PORK–CHICKEN–TURKEY
To select how you like your meat cooked press the TASTE button.
Continue to press the TASTE button to select from WELL DONE – MEDIUM – MEDIUM RARE – RARE.
All four options are not available on all meat types as it is not advisable to eat chicken, for example, any other way other than well done.
How to measure the temperature of your meat
Remove the safety caps on the fork prongs
Insert the prongs as close to the middle of joint as possible in the thickest part of the meat and hold for 15-20 seconds to obtain an accurate reading.
The temperature reached by your meat joint will then be indicated as the relevant box selection i.e. WELL DONE – MEDIUM – MEDIUM RARE – RARE will flash.
The longer the meat is in the oven the higher the temperature of the meat will rise and the more the meat will be cooked. Once the preset preferred finish for your meat has been reached then the temperature reading will be flashing and the fork will sound a beeping.
To stop the beeping press either the TASTE or the MEAT button.
Once the beeping has stopped then it is possible to take a second reading if necessary.
After use carefully wash the prongs in warm soapy water taking care not to wet the handle.