ProCook Help Hub
The latest inspiration and advice from the experts at ProCook
Back to Hub
Serve up a delicious salmon en croute this festive season. This salmon showstopper is full of flavour with a succulent salmon and cream cheese and spinach filling, all wrapped in a crisp, puff pastry parcel. Pairs perfectly with all the usual Christmas trimmings, and is a great dish for Christmas Eve, Christmas Day and Boxing Day festivities.

Bake on a non-stick baking tray

Serves 6 - 8

Time 1 hour 10 minutes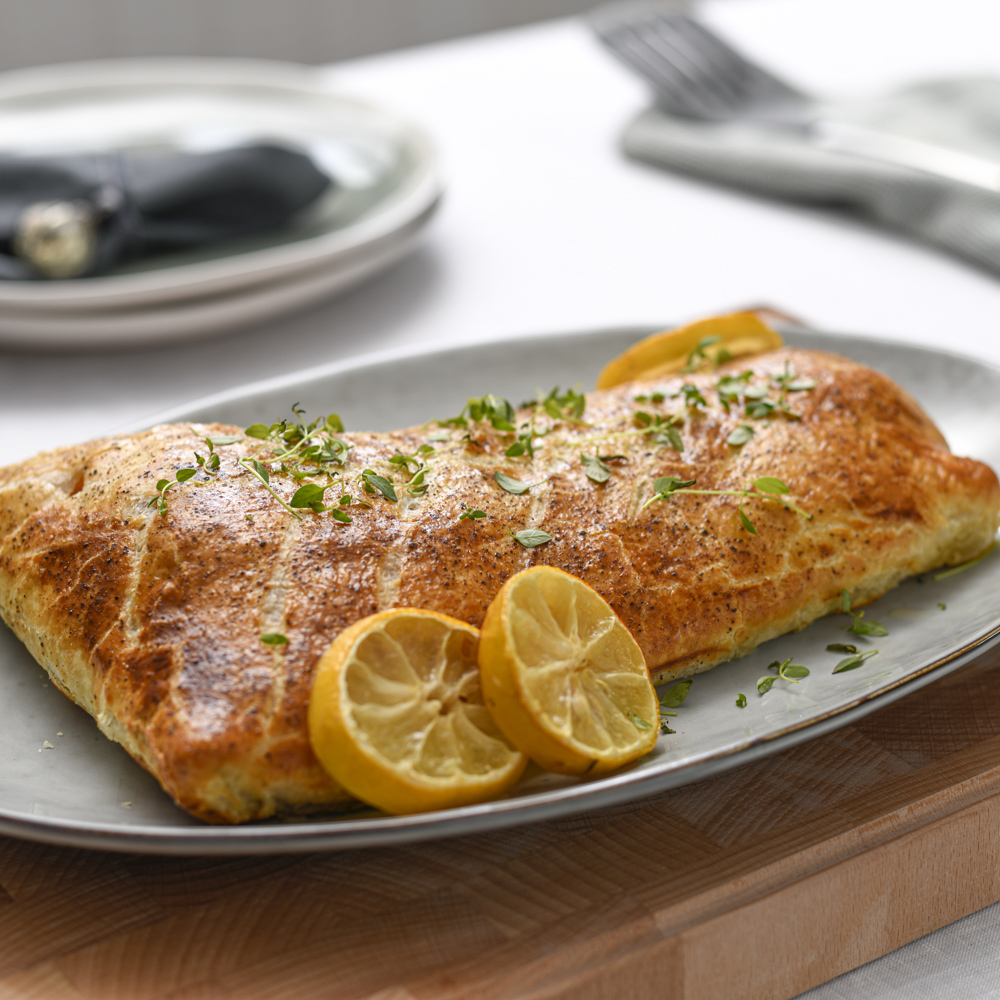 Ingredients
2 x 500g salmon fillets, skinless and boneless

500g spinach

20g butter, cubed

180g full fat cream cheese

Pinch of nutmeg

½ lemon, juiced (zest, optional)

Flour, for dusting

500g puff pastry, pre-made

1 egg yolk, beaten

50g blanched almonds, chopped

Salmon En Croute Recipe

Method
1. Preheat the oven to 200C / 180C / gas 6.

2. Add the spinach, nutmeg, butter, salt and pepper in a large frying pan. Cover with a lid and cook over a low-medium heat until it wilts. Stir occasionally to avoid burning. Once fully wilted, drain off the liquid through a sieve and allow to cool. Place the spinach between kitchen paper to squeeze out any excess liquid.

3. Roughly chop the spinach and place in a bowl with the cream cheese and lemon juice. Add seasoning to taste, mix to combine and set to the side.

4. If adding almonds, heat a frying pan over a medium heat and lightly toast for 3-5 minutes or until golden. Stir frequently to avoid burning. Roughly chop.

5. Lightly dust a work surface with flour and roll the pastry out. Make sure it's large enough to fit the salmon with extra space for crimping the edges together and shrinkage while cooking. Make sure you have two pieces of pastry, with the top piece being slightly larger than the bottom.

6. Place the smaller piece of pastry on a non-stick baking sheet (line with baking parchment if you wish) and put one half of the salmon on top. Cover with a layer of the spinach and cream cheese mix and then the chopped almonds. Add the second piece of salmon on top.

7. Brush the edges of the bottom pastry around the salmon with some of the egg yolk mix. Lay the second piece of pastry on top, pressing around the edges to seal. Neaten the edges by cutting off the very edges of the pastry, then crimp with a fork. Brush with the remaining beaten egg mix.

8. Decorate the en croute with any remaining pastry. Add stars, Christmas trees - anything you wish. Brush the decorations with beaten egg. Cool in the fridge for 20 minutes before baking.

9. Bake the salmon en croute for 30 – 35 minutes, until golden brown. Serve and enjoy!